i love the american people… but here and there are totally irresponsible ceos.
unfortunally i have to say… nokia would have been better off builing 6310s than doing this…
souce:
http://www.theguardian.com/technology/2014/apr/29/stephen-elop-microsoft-nokia
Stephen Elop: I wasn't a Trojan horse for Microsoft at Nokia
Former Nokia chief executive denies conspiracy claims and hints at Nokia Android phone survival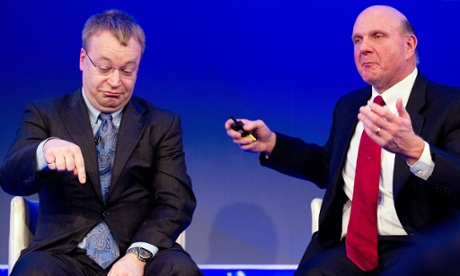 Stephen Elop, former Nokia CEO, denied being a Microsoft 'Trojan horse" planted by ex-Microsoft CEO Steve Ballmer. Photograph: Leon Neal/AFP/Getty Images
Nokia's former chief executive has denied being planted in the firm by Microsoft before its acquisition of the company.
Stephen Elop, who previously headed Microsoft's business division, became Nokia's chief executive in 2010 and was the first non-Finnish chief in the company's 149-year history.
…
Nokia's annual revenue, profits and share price fell dramatically during Elop's tenure, and he was instrumental in the company's decision to ditch its long-held Symbian software for Microsoft's Windows Phone.
http://www.theguardian.com/technology/2013/jul/12/elop-explains-nokia-android
Elop explains: why Nokia didn't choose Android to replace Symbian
The chief executive of Nokia says that business analysis back in 2010 pointed to the scenario that has played out in the Android business – and he's pleased with his choice
only together we can create a truly free world
(yes the info on the internet is (mostly) free but beer is still not free (still have to work on that))
really really hate advertisement
contribute: whenever a solution was found, blog about it for others to find!
talk about, recommend & link to this blog and articles
thanks to all who contribute!