Update: video series on GNU Linux Video Editing
update: 2019-05:
new kid on the block: https://kx.studio/
is said to work pretty well with the scarlet focusrite: (untested!)
https://www.linuxmusicians.com/viewtopic.php?f=6&t=10142
download it here: https://sourceforge.net/projects/kxstudio/
e.g. from this mirror: https://sourceforge.net/projects/kxstudio/files/Live/KXStudio_14.04.2_64bit.iso
https://downloads.sourceforge.net/project/kxstudio/Live/KXStudio_14.04.2_64bit.iso?r=https%3A%2F%2Fsourceforge.net%2Fprojects%2Fkxstudio%2Ffiles%2FLive%2FKXStudio_14.04.2_64bit.iso%2Fdownload%3Fuse_mirror%3Dcfhcable&ts=1559037505&use_mirror=cfhcable
(available for linux, OSX! and even windows!)
i have not tested this… but i might try to evaluate it in the context of band-recording and mixing in combination with the Scarlett Studio Focusrite 2i2 recording device, which is not super expensive but said to work well with apple+logic ( i have heared very great results… ).
i wonder if linux can do what logic+apple can do ? 😉
"I have this unit; and it works FLAWLESSLY with my Ubuntu Studio setup. Didn't have to do any configuration or anything; pretty much plug and play. Usually record at 96k with 0 xruns and less than a milisecond of latency. HIGHLY recommend it. 
"
Wow! That sounds promising… bye bye expensive Logic-Apple!? 😀
http://ubuntustudio.org/tour/ 
Ubuntu Studio is a Linux-based operating system designed as a free, open, and powerful platform for creative people to create their art.
Ubuntu Studio is Free and Open Source Software (FOSS), which means it is free to download and use. You can get the source code, study it and modify it. You can redistribute Ubuntu Studio and can even redistribute your modified version. Read more about these freedoms at GNU.org's Free Software page.
As an officially recognized derivative of Ubuntu, Ubuntu Studio is supported by Canonical Ltd. and an amazing and continually increasing community.
Ubuntu Studio is released every six months, but a long term release (LTS) version is released only every 2 years.
Contents:
Audio 
Graphics 
Video 
Photography 
Publishing
JACK
Jack is a low latency capable audio and midi server, designed for pro audio use. It enables all Jack capable applications to connect to each other. A common program for controlling the jack server is Qjackctl (shown in the picture below).
provides low latencies (less than 5msecs with the right hardware)
provides completely flexible connections
also acts as transport for jack-aware applications

Ardour
Ardour is a Digital Audio Workstation (DAW), suitable for recording, mixing and mastering. Some of its features include: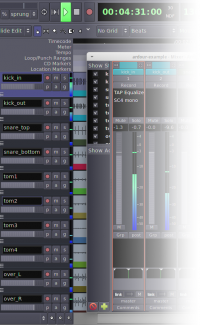 Unlimited audio tracks and buses
Non-destructive, non-linear editing with unlimited undo
Anything-to-anywhere signal routing
Unlimited pre- and post-fader plugins
32 bit floating point audio path
Automatic track delay compensation
Sample accurate automation
Standard file formats (BWF, WAV, WAV64, AIFF, CAF & more …)
More than 200 LADSPA & LV2 plugins freely available
MIDI CC control with 1 click
Level 2 MIDI Machine Control
MIDI Timecode (MTC) Master or Slave
Full integration with all JACK applications
Video-synced playback, pull up/pull down
Sequencers and Synthesizers
Ubuntu Studio comes installed with other notable applications such as:
Audacity – Audio Wave Editor
Qtractor – midi capable DAW
Hydrogen – Drum machine / Sequencer
Yoshimi – Software Synthesizer
Virtual Guitar Amps
Rakarrack (preinstalled) and Guitarix are two popular guitar amp simulators.

Jack Session
Gladish will enable you to start applications, make connections between them, and save the whole configuration to file. Gladish is also an alternative to Qjackctl.

Audio Programming
There are numerous easy to use audio programming environments available to Ubuntu Studio, such as the preinstalled puredata. Others are installable, such as supercollider, csound and chuck.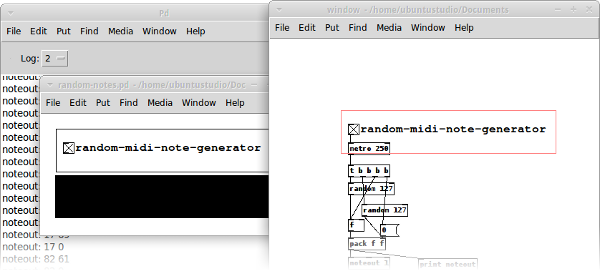 Blender
Blender is a full fledged 3D content creation suite. You can create 3D models and animate scenes. Blender also has its' own game engine and is vastly expandable with addons.
3D Solids and character modeling
Scene animation
Physics and particle functions
Shading
Game engine (create a whole game using only Blender)
Imaging and compositing
Highly extensible
Inkscape
Inkscape is a superb vector graphics editor, with capabilities similar to Illustrator, CorelDraw, or Xara X, using the W3C standard Scalable Vector Graphics (SVG) file format.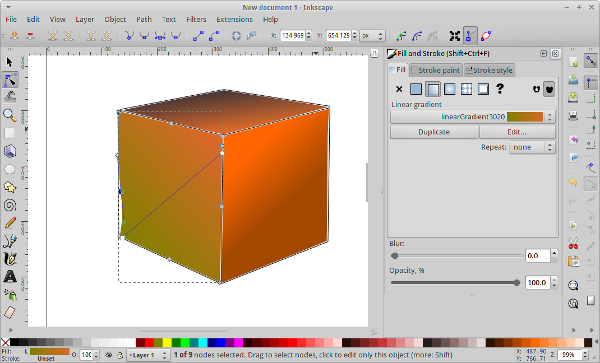 GIMP
GIMP stands for Gnu Image Manipulation Program, and is a similar to Photoshop.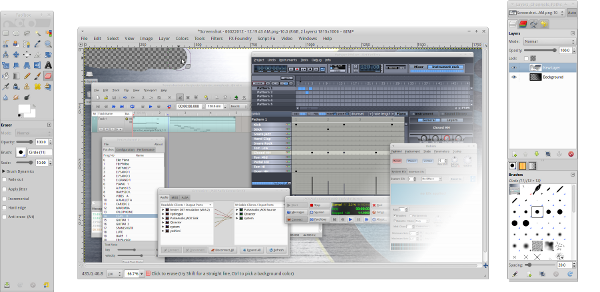 MyPaint
MyPaint is a digital painting tool, designed to work with graphic tablets. It comes with a large collection of brushes, including ink and charcoal.
Designed for pressure sensitive graphics tablets
Simple and minimalistic user interface
Extensive brush creation and configuration options
Unlimited canvas (you never have to resize)
Basic layer support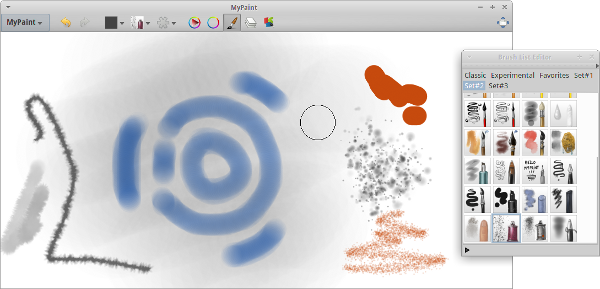 Openshot
Openshot is a simple video editor for Linux. Add videos, photos and music to create DVD's, youtube clips and a range of other formats.
Simple and clean UI
Intuitive use
Format support based on ffmpeg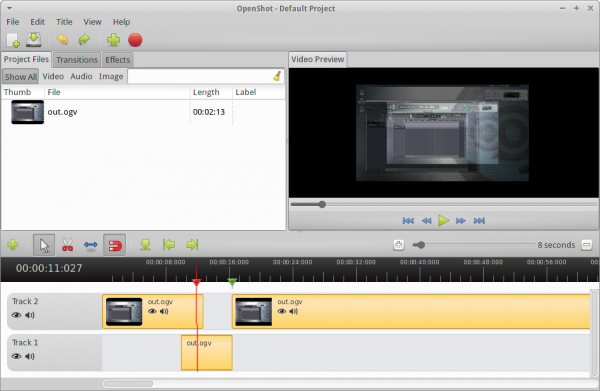 FFMPEG
"FFmpeg is the leading multimedia framework, able to decode, encode, transcode, mux, demux, stream, filter and play pretty much anything that humans and machines have created. It supports the most obscure ancient formats up to the cutting edge. No matter if they were designed by some standards committee, the community or a corporation. It contains libavcodec, libavutil, libavformat, libavdevice, libswscale and libswresample which can be used by applications. As well as ffmpeg, ffserver, ffplay and ffprobe which can be used by end users for transcoding, streaming and playing."
DVDStyler
Use DVDStyler to create custom, professional looking DVD's.
User-friendly interface with support of drag & drop
Multiple subtitles and audio tracks
Design your own DVD menu or select a template
Create a photo slide show
support of AVI, MOV, MP4, MPEG, OGG, WMV and other file formats
support of MPEG-2, MPEG-4, DivX, Xvid, MP2, MP3, AC-3 and other audio and video formats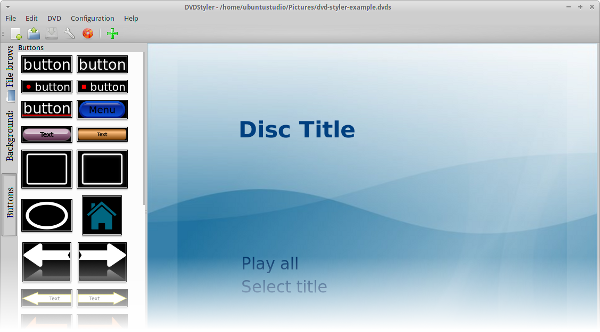 only together we can create a truly free world
(yes the info on the internet is (mostly) free but beer is still not free (still have to work on that))
really really hate advertisement
contribute: whenever a solution was found, blog about it for others to find!
talk about, recommend & link to this blog and articles
thanks to all who contribute!